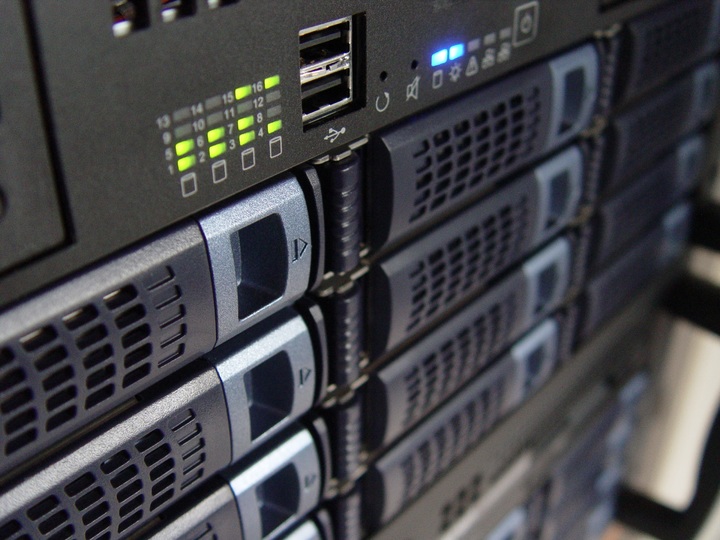 Servers and Other IT Infrastructure
The loss of information could be catastrophic. Protecting server equipment can mean the difference between being off-line a few hours or waiting for days to get new equipment and perform a bare-metal restore.
FIRELOCK® Modular Server Vaulting protects mission-critical IT infrastructure to minimize costly downtime and prevent data loss.
Building a data center without a fire suppression system to prevent the destruction of delicate equipment is inconceivable. Yet fire suppression systems only protect against fires that start inside the data center. This leaves data centers vulnerable to the threat of fires that start anywhere else in the building. All too often, the sprinkler system in other parts of the facility is unable to extinguish fires due to malfunction or is overwhelmed by the intensity of the fire. By the time it reaches the data center area, no internal fire suppression system can save it. FIRELOCK® Modular Server Vaulting safeguards this mission critical infrastructure with Class 125 protection.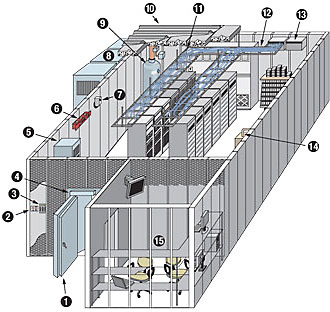 FIRELOCK® vaults are custom-designed and components may vary by client need. Not all vaults will include all of the possible components shown in this schematic design.
Spot Cooler Backup
UPS Power Back Up
Power Master Switch
Why Protect Server Rooms?
The security of server rooms is a hot topic among IT executives because data breaches make headlines in the mainstream media. Yet, protecting IT infrastructure is an important part of a comprehensive information security program. If the temperature exceeds the tolerance threshold of the server equipment, mission-critical data could be lost forever. Data protection is part of every data center operator's responsibilities. Not all data are taken offsite on backup tapes due to the sheer volume and rate of change of information. Even if tapes are taken offsite daily, it is likely some current data will be lost if a fire damages or destroys the server room.
Downtime is another issue directly related to fire protection and the security of the server room. If the support systems for the data center are damaged by a fire, the downtime could be hours or days. If the server room is damaged by a fire and data are lost, downtime increases dramatically and the cost of recovering lost data can be astronomical. In some cases, loss of mission-critical information results in the company going out of business.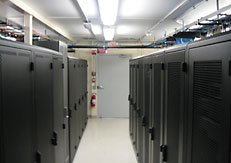 When planning a server room, it is important to be proactive in protecting the data center from catastrophic loss. Fire protection is a key element in the design of a server room. Fire suppression systems are almost always part of the server room design, yet they are only effective when the fire starts inside the server room. This leaves the server room vulnerable to fires that start somewhere else in the building and burn into this critical area.
Recent laws such as Sarbanes Oxley impose harsh penalties on CEOs and CFOs who allow the information assets of an organization to be destroyed or lost for any reason. Heavy fines and criminal penalties of up to ten years imprisonment make it mandatory that corporations address the issue of protecting data centers. Government statistics on this legislation reveal that 93% of all information assets start as digital records and only 30% are ever printed to paper. SEC requirements of treating email as business records impose an even heavier burden on IT professionals to protect information in all its formats.
FIRELOCK® Modular Server Vaulting provides a fireproof, heat-insulated, magnetically-shielded, Zone Four Seismic Data Protection Chamber that is used by Fortune 500 companies and at the highest levels of the United States Government to protect vital information and hardware assets.
The S.A.V.E. Solution
The mobile data center module concept has some important advantages over traditional data center facilities: speed of deployment, ease of transportation, and modular expansion. However, there are some issues that are not addressed by standard mobile data centers, such as fire protection, weather protection, physical security, and vendor neutrality. To address these issues, FIRELOCK® now offers the Secure Agile Vault Environment, or S.A.V.E.
Threats to Data Center Modules
Many of these shipping containers will be located outside the clients' facility with only minimal physical security and little shielding from the weather. If the container is located within close proximity to the building, the heat from a building fire could destroy the contents of an unprotected container. If the mobile data center is located away from the building, arson is a very real threat to a mobile data center in an exposed position, and physical security is a much greater concern. The heat of the sun can compromise data center operations. Even rain can be a major complication when the need arises to enter the mobile data center at the wrong time.
The S.A.V.E. by FIRELOCK® addresses these issues with an integrated Class 125 rated vault within the mobile platform. In addition to unsurpassed fire protection capabilities, the FIRELOCK® system provides an R-33 insulation rating to maintain a neutral climate inside the vault chamber, even on the hottest days. The vestibule area in front of the vault eliminates the need for external weather shielding. In short, it provides all the benefits of the mobile data center with the added protection a mission-critical IT facility demands. An excellent example of an application for this product is the protection of networking equipment at a cloud computing facility, where the loss of this critical element would slow or completely disrupt service for thousands of customers.
FIRELOCK® is seeking partners in the UPS / Power Supply and Server Systems industry with clients who require the highest level of fire protection and security for their mobile data center modules. For more information, click here for a White Paper detailing the S.A.V.E. design.