A FIRELOCK® vault design provides:
Modular Construction Built from panels that are 24 inches wide and can vary in height from 8 to 16 feet, vaults can be customized to meet current needs and can expand as those needs change.
High-Temperature Insulation Vault panels constructed from spun ceramic material capable of withstanding temperatures well above 2000° F for five hours of testing.
Solid Framework Unique structural steel design that offers 3 times the strength of normal building construction.
Magnetic Shielding Components protect against the most common electromagnetic fields that can damage media stored archivally in one location.
Self-Closing Door The Vault Door features an automatic Hydraulic Door Closer that will seal the vault in the event of a fire, even if the operator has left the building. Both the outer and inner doors will close upon heat, smoke, or alarm panel activation.
Essential Environmental Planning and Design Firelock vaults are pre-designed to integrate dust- and vapor-resistant lighting, humidity control, and fire suppression systems that are not harmful to the environment and do not add to global warming.
Magnetic Shielding  Magnetic Shielding Components protect against the most common electromagnetic fields that can damage media stored in one location.
Internal Fire Suppression The internal Fire suppression system utilizes a clean agent which leaves zero residue in the event of an activation.
Flexible Design Light enough to install on an upper floor and adaptable enough to move to a new location.
FIRELOCK® has been designing and installing vaults since 1985. Since that time, our technology has advanced greatly from providing vaults that are capable of protecting paper documents. These vaults are Class 350 Four-Hour Fire Rated, meaning the vault interior will not exceed 350°F (177°C) for a four hour duration and with heat exposure of up to 2,000°F (1,000°C).
FIRELOCK® is unique in that we offer a Class 350 Six-Hour Vault for clients' special high-risk needs.
FIRELOCK® is also unique in that our vaults provide a Class 125 Fire Rating for a minimum of two hours, but as vaults increase in size, the vault rating increases in duration. Our 28′ x 28′ x 8′ vault will deliver a Class 125 Four-Hour Rating. This is four times the protection that a typically constructed data safe can provide.
FIRELOCK® — as the pioneer in protective fireproof vaults — was the first to develop a vault chamber that could endure a five hour fire. The significance of this is that many of our competitors discuss fire rating in terms of 90 minutes or two hours, but fail to mention that to survive this period they requested the testing laboratory to turn off the test furnace at 60 minutes.
All of our vaults can endure five hours of fire testing and then be exposed to heavy fire-fighting hose streams. ASTM E-119 Test Protocol and UL 72 Testing Procedures were employed. No other vault chamber can provide this endurance and survive to protect your media assets.
Ratings
FIRELOCK® has developed vault chambers with specific ratings for the purpose of protecting the following information and archival assets:
Class 350 four-hour rating for protecting paper documents
Class 150 four-hour rating for microfilm, computer equipment and historic artifacts
Class 125 four-hour rating for computer media, digital records and sensitive server equipment
FIRELOCK® is unique in that all vault chambers are designed with an integrated vapor barrier to ensure that high moisture levels or steam cannot penetrate the vault walls and damage backup tapes, IT equipment, historic documents, business records or other information assets stored within the FIRELOCK® vault.
Eliminating steam or high moisture levels is critical to protecting computer media. UL 72 testing specifications mandate that vault and safe environments must not exceed 125°F (52°C) or a relative humidity above 80% for the duration of the rating within the vault chamber.
Classification and Rating of Vault Chambers*
Fireproof vaults are classified in terms of an interior temperature limit and a time in hours. Three temperature limits are employed:
350°F (177°C)
150°F (66°C)
125°F (52°C)
The time limits employed are 4, 3, 2, 1 or 1/2 hour. The complete rating indicates that the specified interior temperature limit is not exceeded when the device is exposed to the standard fire test for the length of time specified.
The temperature classifications of 150°F (66°C) and 125°F (52°C) further require that interior relative humidity of 85 and 80 percent, respectively, are not to be exceeded for the period of the fire test and cool down period.
After a five-hour endurance test to 2,070°F, the FIRELOCK® vault panel system is immediately exposed to high-pressure fire hose spray to ensure the vault is capable of withstanding not only heat but the fire fighting effects that result in a full structure fire.
*Reference: UL 72 tests for fire resistance of records protection equipment. UL stands for Underwriters Laboratories of Northbrook, Illinois who is a Standard Testing Laboratory.
Proof of Protection
Laboratory Fire Tests Reflect FIRELOCK® Vault's Unprecedented Levels of Media Protection
FIRELOCK® Vault Panels, Cable Trays, and Vault Doors, are the first to provide Class 125 Listing and Labeling for Modular Media Vault Chambers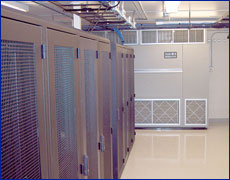 Server Vault with Liebert air conditioning system, "Unimount" track ceiling, and wire rails eliminate the need for raised flooring expenditures.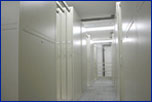 Media Storage Cabinets provide extreme density for storing computer media and microfilm.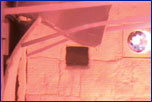 Blast Furnace superheats air and the integrity of the vault remains intact as Gypsum board peels away from exterior walls.
Omega Point Laboratories, Inc. put a complete FIRELOCK® Fireproof Modular Vault assembly through a grueling 5-hour test under the UL-72 ASTM-119 Time Temperature Curve. The FIRELOCK® Vault greatly exceeded previously documented levels of protection. The results of the testing are shown in the label below.
Test Description
The Vault was subjected to UL 72/ASTM E-119 Time Temperature Curve with monitoring thermocouples on the cold face and/or interior wall surface of the vault wall. The Vault was required to maintain predetermined temperature limits for the protection of documents and media stored within the vault chamber. The time limits and associated temperature limits are described in the chart. Vault Categories are impacted by Vault chamber size and therefore the listings are as follows:
Available Vaults/Ratings from FIRELOCK® Modular Vaults
Unventilated Vaults Constructed in the Following Sizes
Omega Point Label
9′ x 9′ or larger in either or both dimensions Class 125 – Two Hour
9′ x 9′ or larger in either or both dimensions Class 350 – Four Hour
12′ x 12′ or larger in either or both dimensions Class 150 – Three Hour
18′ x 18′ or larger in either or both dimensions Class 125 – Three Hour
20′ x 20′ or larger in either or both dimensions Class 150 – Four Hour
28′ x 28′ or larger in either or both dimensions Class 125 – Four Hour