The National Fire Protection Association reports that arson is the leading cause of fire in the United States. Serial arson and arson for insurance purposes have in recent years experienced an increase due to fires set for political reasons. In the United Kingdom, over 50% of fires were arson as reported by fire and rescue services.
Annual losses exceed over $1.4 billion; and in the last decade, there have been over $120 billion in direct losses. In recent months, the statistical reports on the motivation for fire initiation have been recorded as vandalism, extremism, and political terrorism, which has recently increased. Organized movements threaten to "burn things to the ground" as a means to effect political change.
Government buildings, such as town halls, fire stations, and police stations, are now considered desirable targets. One organization in recent days stated a directive to destroy the history of America. Arson in this case has the motivation of furthering a political viewpoint.
Arson fires set as a means to escape financial obligations during these difficult economic times are predicted to become more prevalent, especially as domestic political terrorism and rioting occur in blighted downtown shopping areas with decreased police presence. The business owner may seek to use arson as a means to escape lease obligations, which in turn result s in diminished property value s in urban areas. Collecting on insurance claims and relocating businesses away from the center of cities may happen more frequently during times of unrest.
In the event of an arson wherein the property is destroyed by fire, the government has an option to prosecute under 18 U.S.C. § 81.1 For decades, the center city was described as an ideal location; but trends of increasing taxation have led to a migration of citizens and businesses to destinations viewed as more favorable to income earners.
Government authorities must react to discourage the attacks on government building s where demonstrators march in protest. Areas in turmoil set the cover for arsonists to successfully achieve their goals. Protestors might view the destruction of a town hall or police station as serving their mission to destabilize the American model.
Town halls store deed books, birth and death records, military records, voter rolls, and of course, the most valuable of documents: the historical records that serve as valued artifacts of the American culture.
Mayors, selectmen, town clerks, and other government officials, must consider their responsibility to ensure that their buildings can withstand a deliberately-set fire. Attacks on police stations and court buildings may serve to destroy evidence vaults and eliminate the very records that would serve to prosecute the arsonists and rioters for their criminal behavior.
Through the years, town halls have used vaults to protect their most vital and valued records. Old-style vaults are not as effective as new modular fireproof vaults that have, within their design model, the ability to make the vault capable of protecting vital records more effectively. New modular fireproof vaults have the ability to automatically seal the vault in the event of arson or other fire. The cutting-edge vault has the ability to close the vault doors and seal the fire dampers and cable trays when fire is detected, so that the vault contents are protected in a fast-moving arson fire.
Modular fireproof vaults have been fire tested and therefore have a laboratory listing to provide proof to the owner that the contents of the vault will always be protected and that the construction technology that is used by the architect will, in fact, perform in any type of fire. The National Fire Protection Association (NFPA) has designed many standards on how to protect the vault, the records center, and the building in general.2
Unfortunately, some of the greatest and most valuable collections reside in vaults constructed over 40 years ago. At that time, there was no effective design guideline to provide the proper specifications. Today, Connecticut and Massachusetts have created engineering specifications that define the proper construction techniques to safeguard structures. 3
Currently, a proper vault will have the ability to protect not only paper documents, but also computer media, server rooms, and historical documents. Stand-alone technology that causes the vault door to automatically close at the first detection of smoke or heat in the area of the vault is prescribed.
In an arson fire, inhabitants of the building may evacuate at the first sign of a threat and move to a designated area, just as they do in an active shooter drill. The UL Listed and Labeled Vault Chambers are designed to protect the contents of the vault enclosure in any fire event. The vault doors and fire dampers also close upon activation of the clean agent fire suppression, thus providing great safety for the records stored within. Standards issued by state archives, and in some cases, the Secretary of State, require vault penetrations such as environmental controls within the vault, the electrical portal, and of course, the vault door, to seal the entire chamber in the event of a fire. These openings can be controlled through the alarm panels should the central alarm fail or be disabled, resulting in the vault closing using its proprietary design capabilities.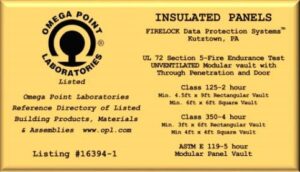 Current planning for new construction of government buildings, such as town halls and police stations, must involve making use of the modern-day vault to protect from any type of fire initiation. Fire marshals and fire-prevention specialists should be part of the planning team.4 In the end, it is the owner or the responsible party (town or city clerk or the owner of the business) who is held liable or responsible for the loss of records as a result of a fire.
______________
1See United States v. LaPorta, 46 F.3d 152, 158 (2d Cir. 1994) (when offense is destruction of government property by fire, government must prosecute using specific arson-related statute rather than combination of generalized statutes)
2NFPA 232 Protection of Records
3Technical Bulletin #1 issued by the Commonwealth of Massachusetts "Performance Standards of Safes and Vaults and State Laws (Chapter 66, §.11 MGL) and Connecticut's Fire Resistive Vaults and Safes and Connecticut Regulations §11-8-1 through §11-8-12.
4Arson and the Fire Investigation – A Property Conservation Resource from Factory Mutual
______________
The author of this article, Hugh Smith, has been involved in fireproof vault design since 1980 and has served as an NFPA Technical Committee member for the NFPA 232 Standard since 1999.
FIRELOCK® Data Protection Systems ("FIRELOCK®") has installed over 1,700 modular vaults over the last 40 years in locations worldwide. Modular fireproof vaults are also designed to resist earthquakes, tornados and hurricanes so they are able to preserve the client's vital records and media from any and all threats.